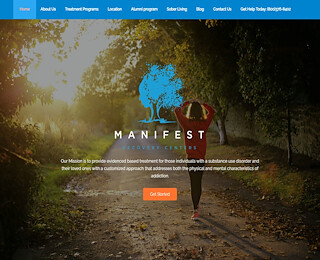 Welcome to Manifest Recovery Centers, a state-of-the-art rehab facility that offers extensive rehab treatment and support to all victims of substance addiction. Chemical addiction is one of the most devastating physiological disorders due to its progressive nature and lethal potential. Recovering from it requires joining a professional rehab program fast.
Our Los Angeles rehab treatment relies on a multi-layered strategy, as we use a variety of programs and clinical procedures for long-lasting results. The reason why so many detox clinics fail at providing you with meaningful benefits is because of adopting a unilateral approach. Although the detox process is vital for helping you overcome the withdrawal phase, it's not a reliable long-term form of treatment.
The recovery process is more complicated than that. To make sure you will remain sober and healthy over the years, we use clinical procedures like:
Dual-diagnosis treatment and management – Most patients struggling with substance addiction also suffer from at least one co-occurring disorder. Addressing the addiction but ignoring the co-occurring mental illness will defeat the purpose of the rehab treatment. We provide medication-assisted therapy and psychotherapeutic support for multiple mental conditions like PTSD, ADHD, anxiety, depression or bipolar disorder.
Matrix Model – This model of treatment relies on using different instruments from multiple behavioral therapy procedures like CBT, DBT or Contingency Management. The goal is to teach you the value of introspection and responsibility. You will learn how to improve your lifestyle, control your behavior, and adopt a winner's attitude in dealing with your problems and life in general. The Matrix Model represents a core feature of our Los Angeles rehab treatment thanks to its incredible long-term effectiveness.
Mindfulness-Based Relapse Prevention (MBRP) – The MBRP targets the core causes of the relapse, looking to promote sobriety and protect you against yourself. At its core, this is a psychotherapeutic procedure that supports introspection and acceptance as part of a long-term self-discovery process. You will learn how to deal with negative emotions and control your cravings on your road to become a healthier, happier individual.
The Telehealth Program – The aftercare process is one of the key factors contributing to a successful rehab program. The rehabilitation treatment doesn't end with you leaving our institution's walls; in reality, that's when the real test begins. We maintain the connection to our patients during the outpatient program using the HIPAA compliant network. The platform will allow you to receive virtual expert counseling as an alternative to on-site therapeutic meetings.
Knowing how dangerous substance addiction is long-term, we advise you to seek help now. You shouldn't fear the detox process. Our expert clinicians will walk you through a detox program that delivers fast results with a minimum of discomfort. You only need the determination and mental strength to pursue your goals at any cost.
At Manifest Recovery Centers, we offer an inclusive and ground-breaking Los Angeles rehab treatment that will change your life. Leave your fears aside and join our family today! Our hotline is open every day if you have questions or wish to make an appointment!
Manifest Recovery Centers
800-376-3402
10100 Santa Monica Blvd
Los Angeles
CA
90067
View Larger Map